Meet the Elfa Wardrobe Storage System
Elfa is a Swedish shelving system purpose-built for decluttering and organising wardrobes. Fully customisable, completely adjustable and made from high-quality epoxy powder-coated steel, Elfa has been the world's favourite modular shelving system for over 60 years.
Elfa storage is designed in Sweden, made in Europe, and covered by a 10-year manufacturer's warranty.
The modular design that makes Elfa fantastic for wardrobe storage also makes it ideal for other areas around the house. Gliding Mesh Drawers, Wire Shelves and adjustable hanging space can be used almost anywhere, from the laundry to the garage. Specialised storage solutions are also available for drying clothes, organising tools and storing spice jars.
Other Places You Can Use Elfa

Australia's lowest Elfa prices are at Soko & Co

Australia's lowest Elfa prices are at Soko & Co
Soko & Co is Perth's Elfa wardrobe design specialist
With almost 20 years of experience designing Elfa wardrobes, we are Perth's leading Elfa retailer. We offer a convenient in-home measure and quote service in the Perth metro area, along with free email or phone consultations for customers all over Australia.
With thousands of other innovative storage products available, make Soko & Co your one-stop shop when it comes to home storage and organisation.
Together, let's declutter your world.
Browse Products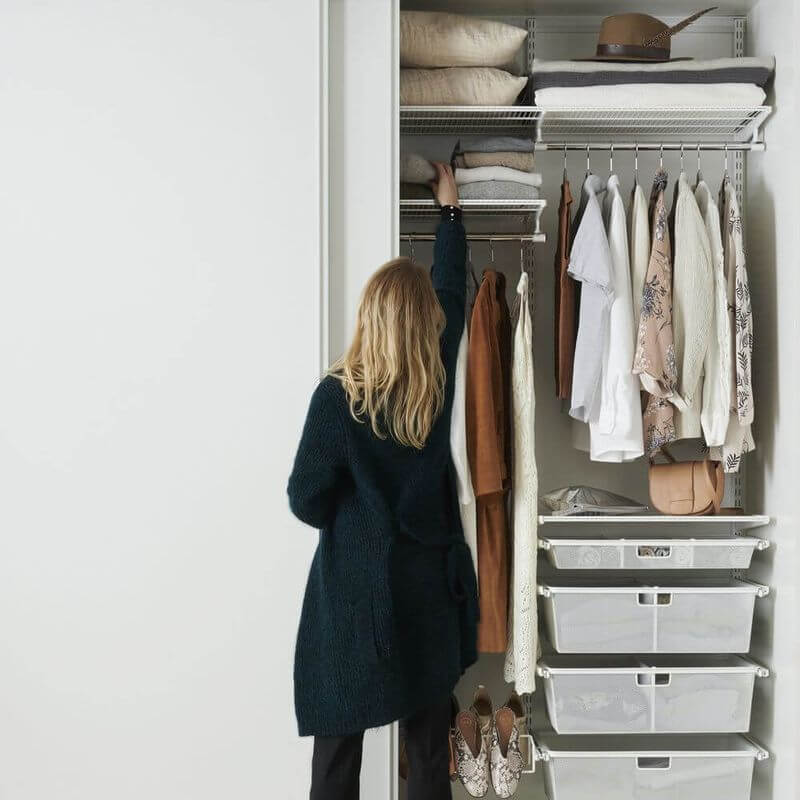 Designing an Elfa wardrobe can be confusing, especially if you don't have any experience with Elfa. That's why we offer complimentary design consultations, an in-home measure and quote service, Australia-wide shipping and convenient Click & Collect.
In-Store or Email Consultation
Drop by our Myaree showroom for a one-on-one design session with one of our experienced Elfa specialists. Bring along your wardrobe's dimensions and a few photos of the space so that we can recommend the solutions that will make the most of your storage space.
Alternatively, email your measurements and photos to us and we'll reply with a 3D design, with unlimited design changes and no commitments.
Price: Free!
In-Home Measure & Quote
Let us come to you with our in-home measure and quote service, available in the Perth metro area. We'll take our own measurements and give you a rundown of how best to organise your wardrobe, with a 3D design emailed to you afterwards.
Price: $150.00, deducted from any future Elfa purchase.
Design Your Wardrobe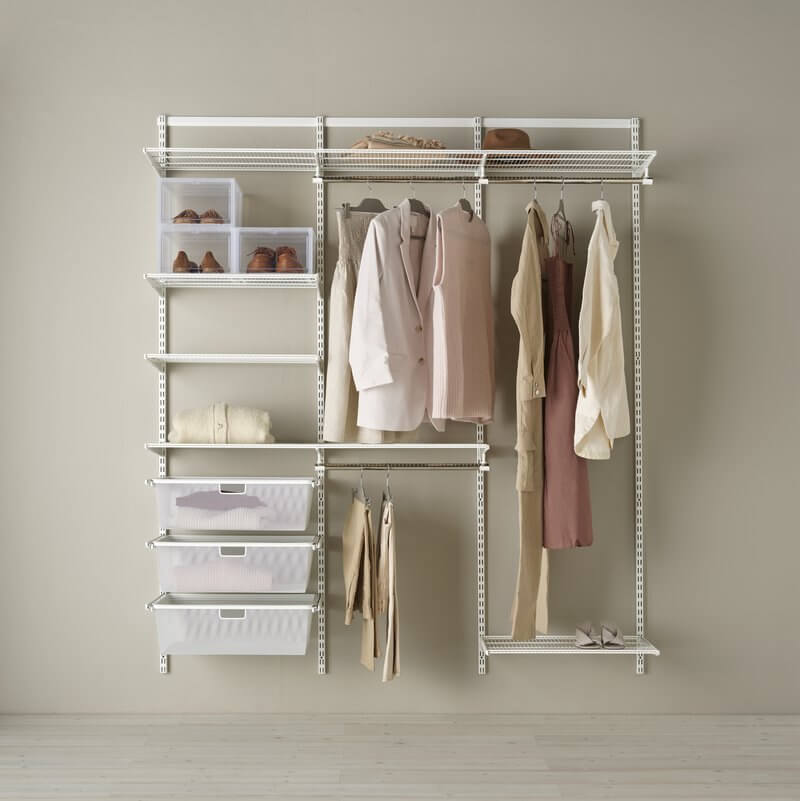 White
The traditional white epoxy powder coated finish is iconic to Elfa. Choose White to make your wardrobe shelving feel open, welcoming and classic.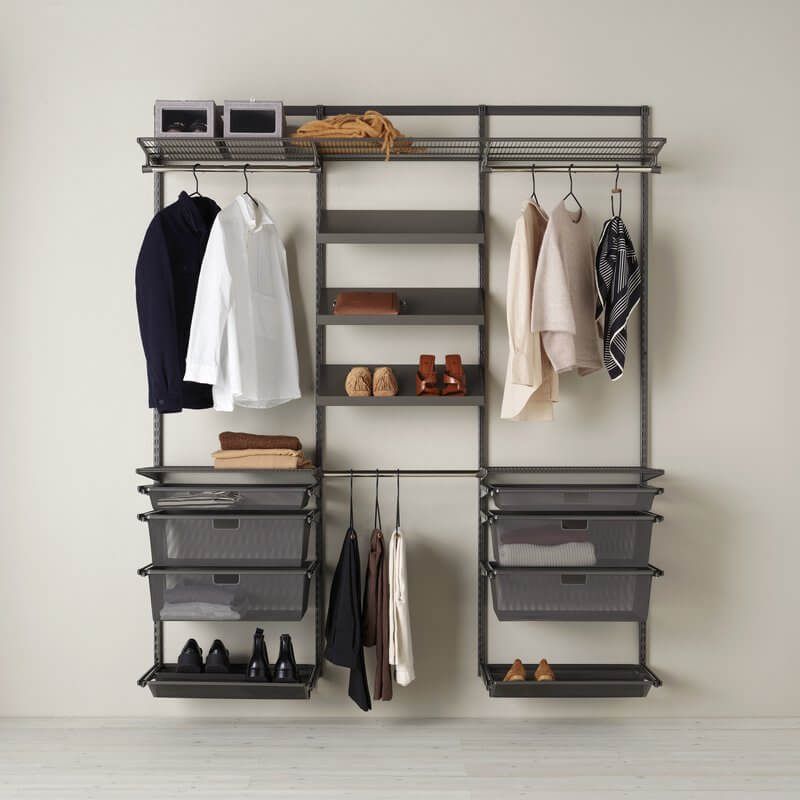 Platinum
For a more premium look and feel, Platinum is a fantastic choice. It's suitable for walk-in wardrobes, built-ins and open wardrobe shelving.
Modular Wardrobe Shelving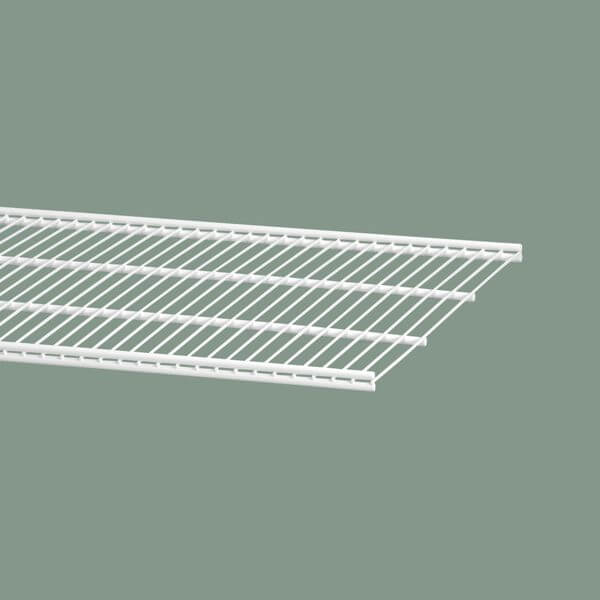 Wire Shelf
Elfa's signature ventilated wire shelving promotes air flow, brightens the room and creates transparency in your wardrobe.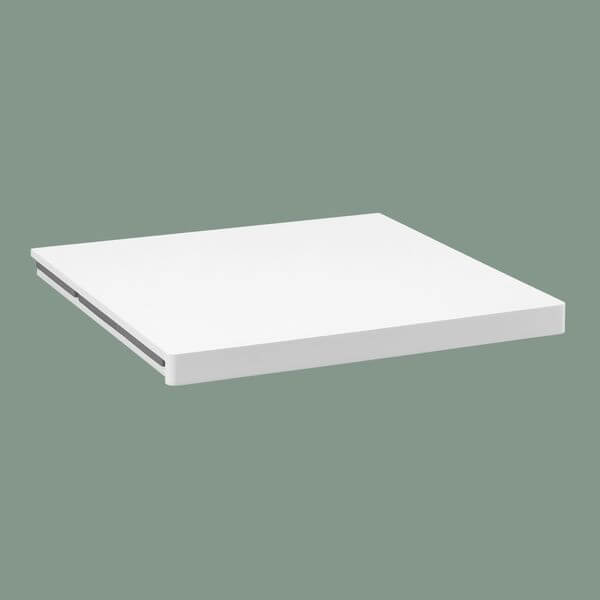 Decor Shelf
Decor is the perfect way to create a luxury wardrobe. These shelves have an exceptionally strong honeycomb construction with a genuine wood veneer finish.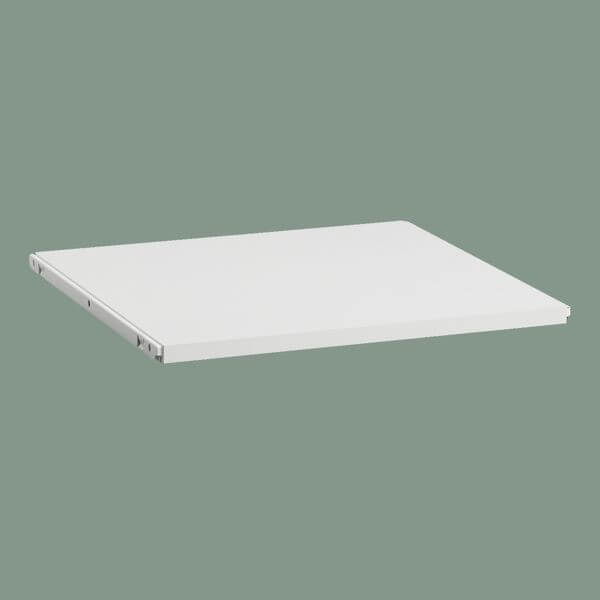 Melamine Shelf
Solid, stable and hard-wearing, Elfa's melamine shelves combine the best of both worlds. Made from a 20mm melamine board with a soft white finish.
Gliding Wardrobe Accessories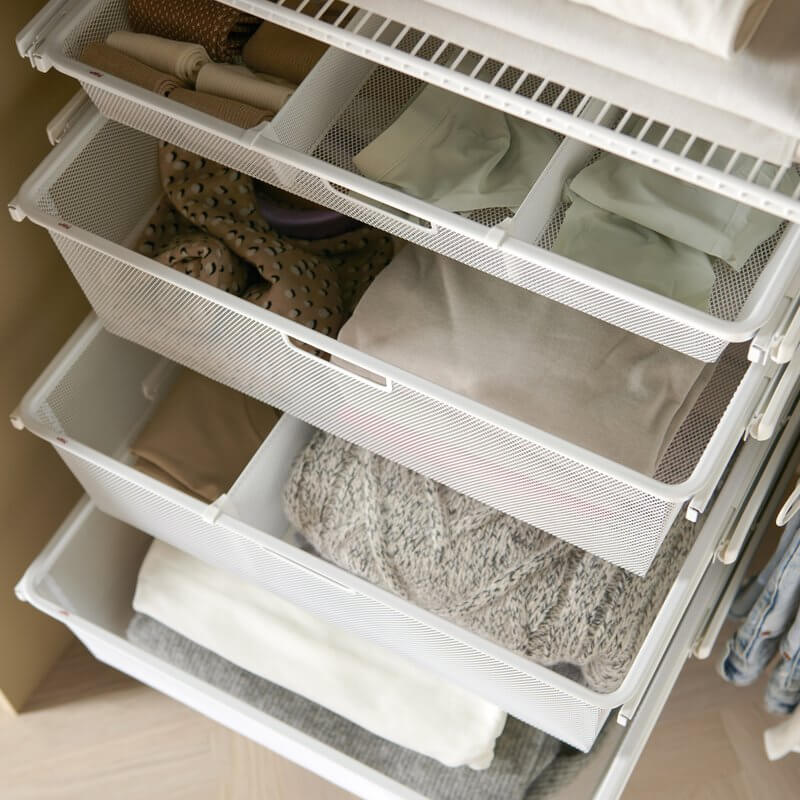 Gliding Mesh Drawer
Keep clothes organised and in perfect condition with Gliding Mesh Drawers. Different widths, depths and heights are available to suit any wardrobe space and every type of clothing.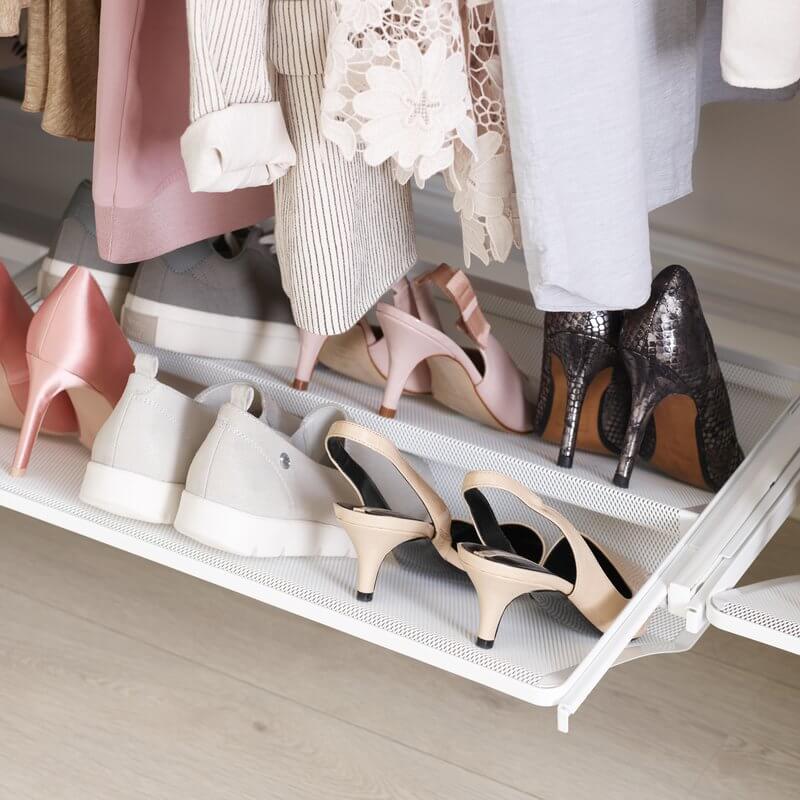 Shoe Rack & Shelf
Elfa's Mesh Shoe Shelf is designed for flats and sneakers, while the Elfa Shoe Rack is perfect for heels and boots. Each holds up to nine pairs of shoes.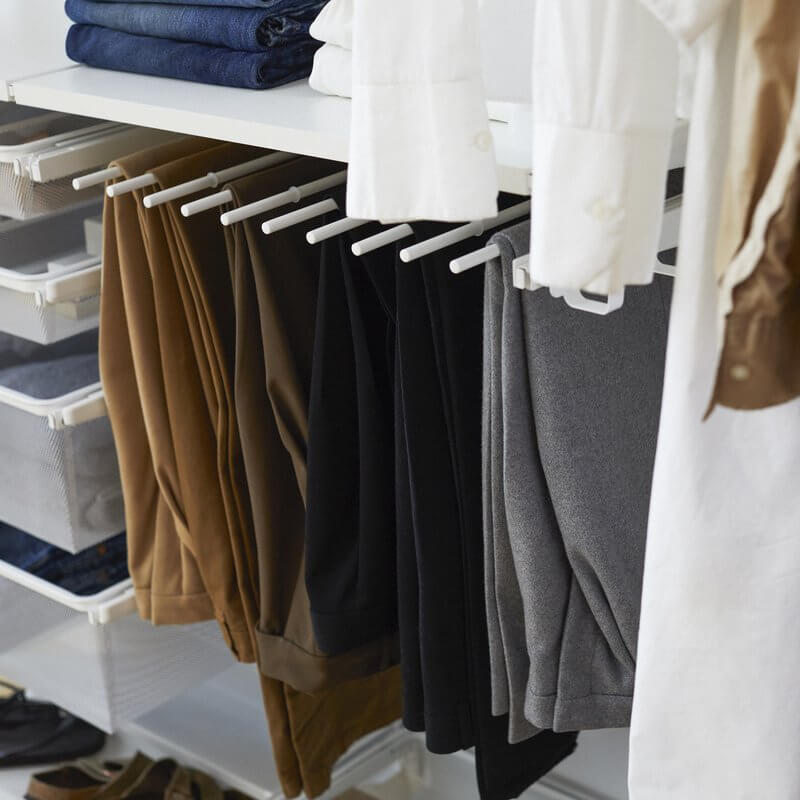 Pant Rack
Effortlessly organise up to ten pairs of pants with a smooth-gliding Pant Rack. Small rubber rings prevent garments from falling off the rack.
Ingenious Wardrobe Accessories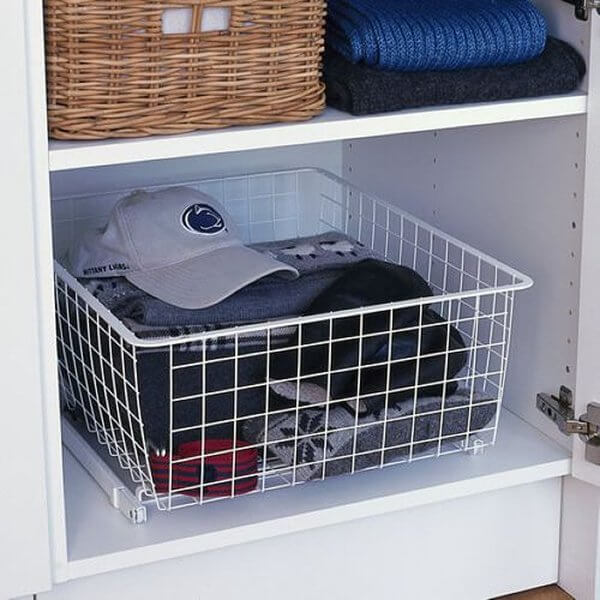 Easy Glider
If you have existing wardrobe shelving that you want to convert into pull-out drawers, Easy Gliders are the perfect solution.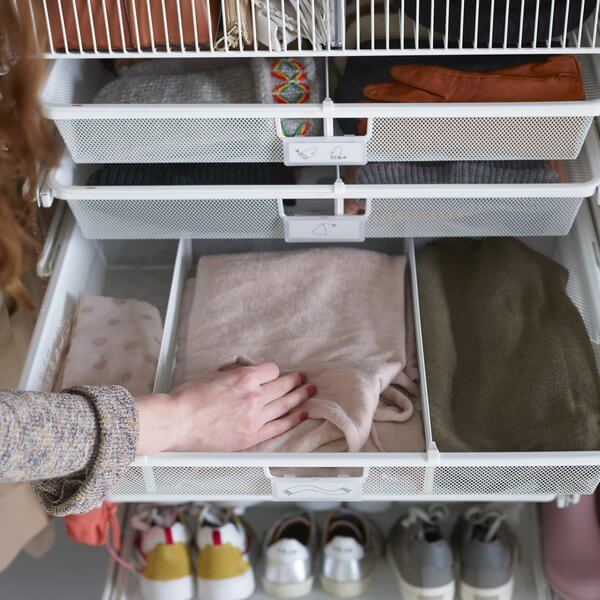 Drawer Dividers
Use Mesh Drawer Dividers to keep shorts separated from sweaters, and underwear away from socks. Suitable for Gliding Mesh and Decor Drawers.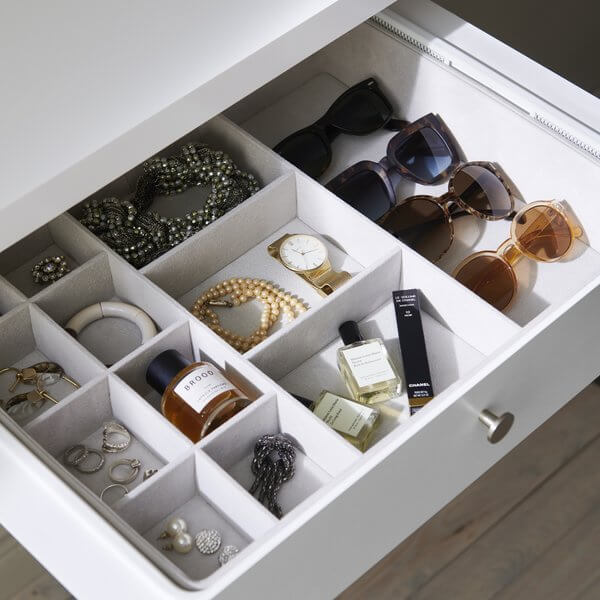 12 Section Jewellery Tray
Store your jewellery collection inside your Elfa wardrobe storage with this handy jewellery organiser. Perfect for watches, earrings and necklaces.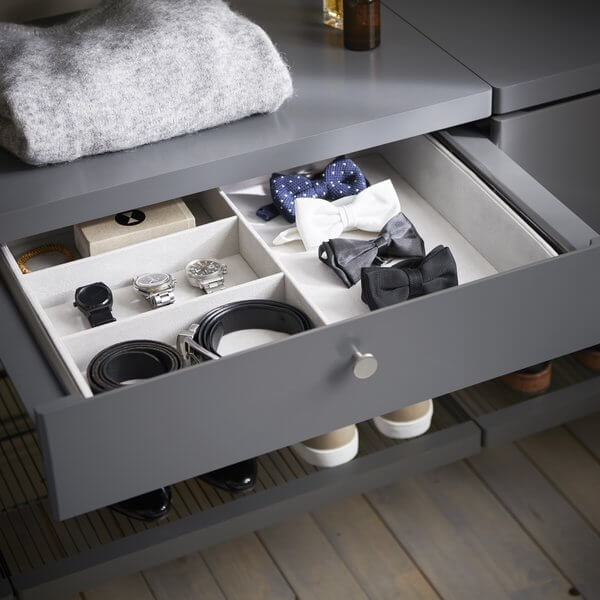 4 Section Jewellery Tray
Don't forget about larger accessories. This 4-compartment tray is ideal for bulkier items like belts, sunglasses and purses.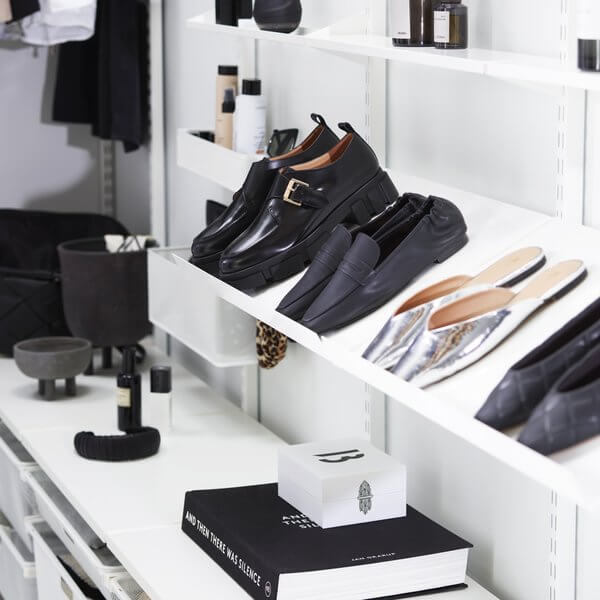 Angled Metal Shelf
This solid metal shelf is the perfect place to store and display 2 pairs of shoes. Also great as a display shelf for books and magazines.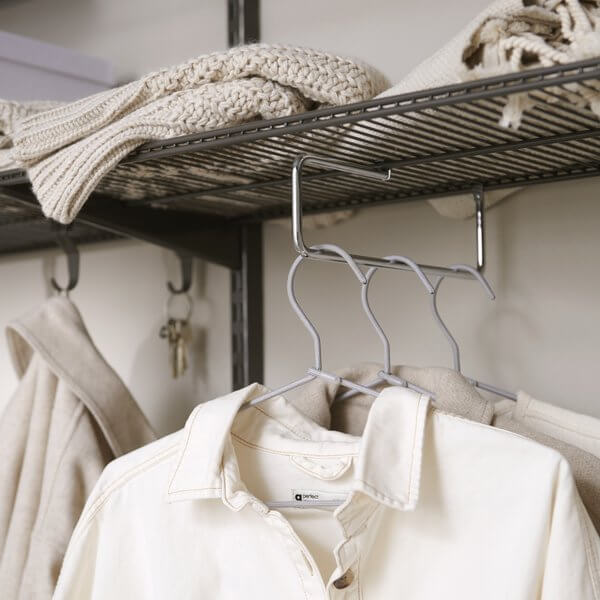 Valet Rod
This hanging rail allows you to store clothes front-facing, rather than side-facing. Perfect for displaying and storing clothes in small wardrobes.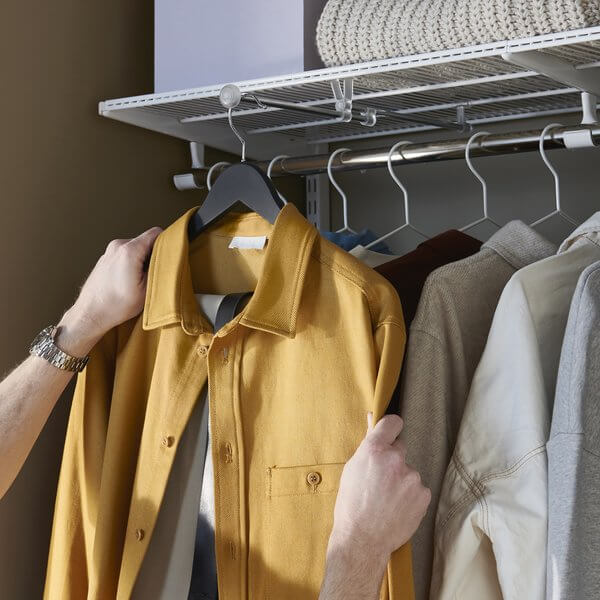 Expandable Valet Rod
Easily prepare tomorrow's outfit and hang it up ready for you when you wake up. Sits flush with the shelf above when not in use.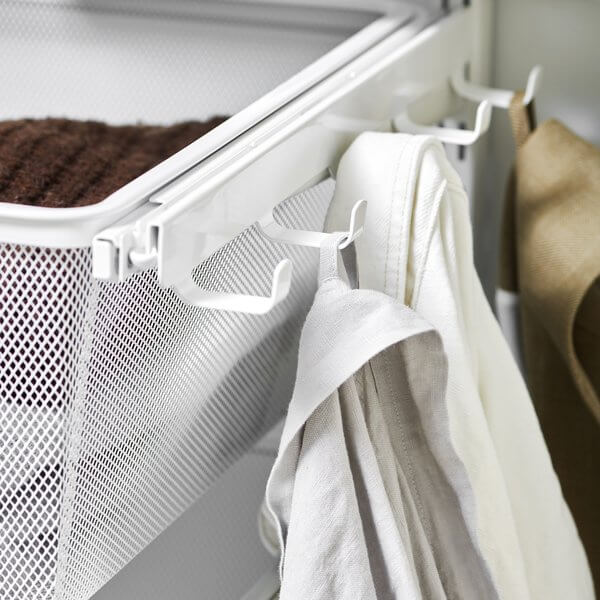 Bracket Hook
Keep small accessories organised by giving them an easy-to-access home. Perfect for jackets, coats, belts, ties and bags.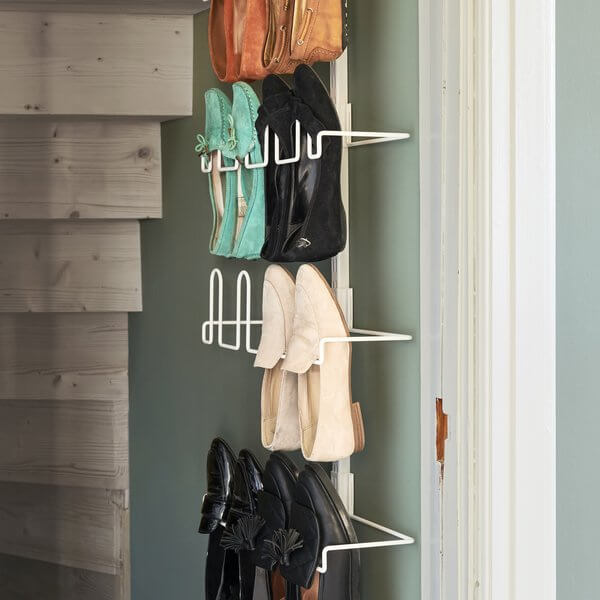 Centre Shoe Rack
Organise two pairs of shoes with this slim shoe rack. Can be used to create an over-door or wall-mounted shoe rack.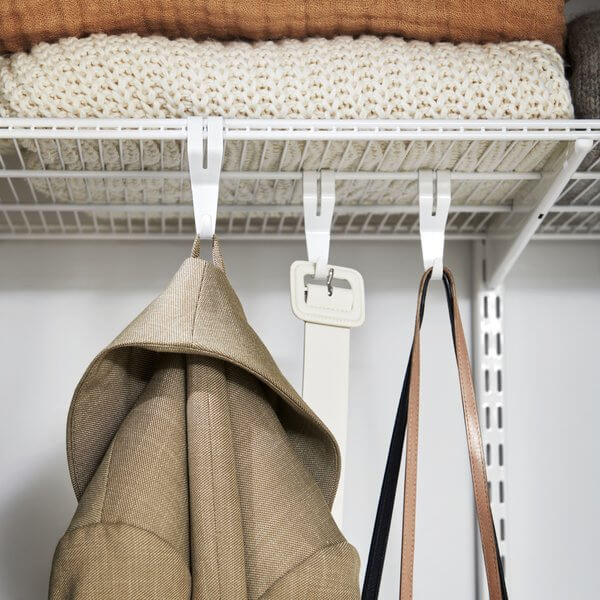 Shelf Hook
Need to hang coats, belts or bags? These hooks hang underneath Wire Shelves. Add as many as you like, and reposition them at any time.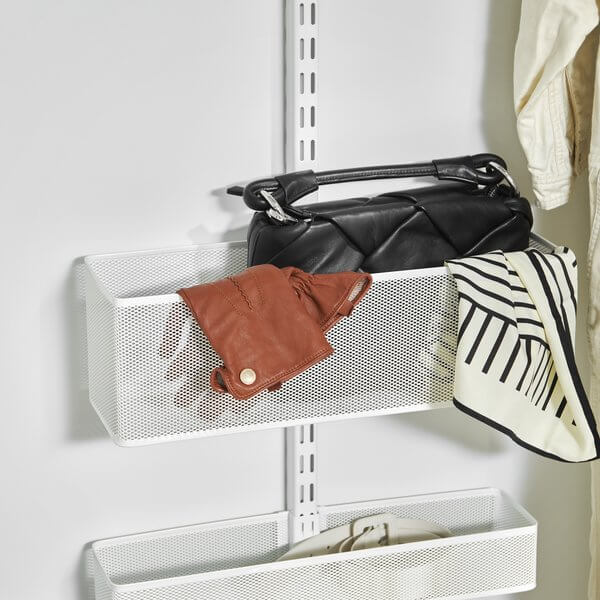 Mesh Utility Basket
Available in three handy sizes, this Mesh Utility Basket attaches to Hang Standards or Wall Bands and is made for clutches, belts and even shoes.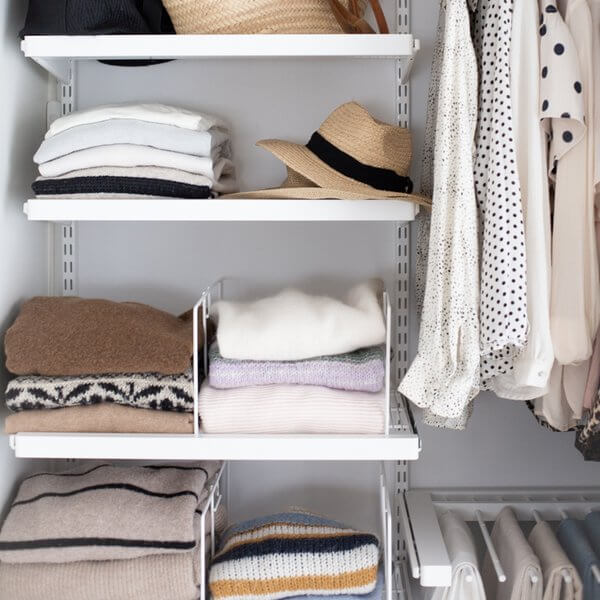 Wire Shelf Divider
Place this shelf divider at any place on your Wire Shelves to keep jumpers, shirts and handbags organised.
Why Choose an Elfa Wardrobe?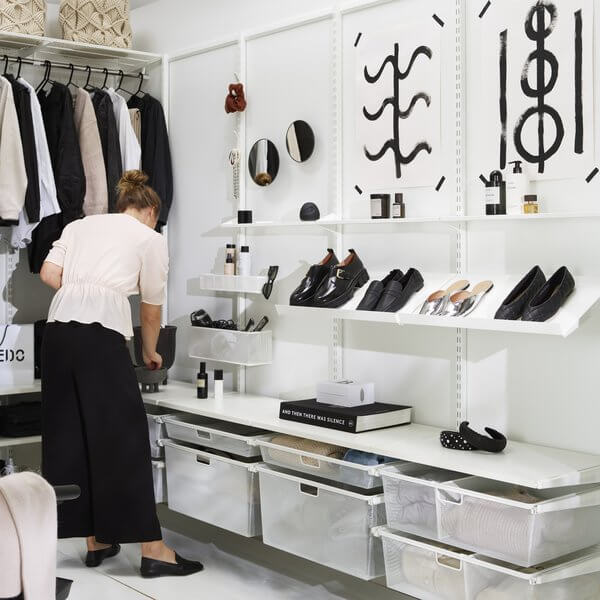 Completely Customisable
Elfa's modular design means you only purchase the accessories that work for your specific wardrobe storage needs. Add as many or as few shelves, drawers and accessories as you require.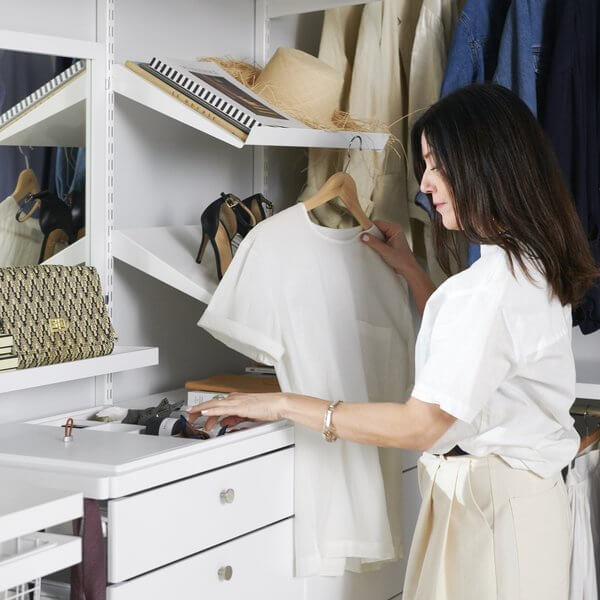 Versatility & Accessories
Add, remove or rearrange components at any time. Choose from hundreds of accessories ranging from Shelf Hooks and Mesh Drawer Dividers to Expandable Valet Rods and Gliding Shoe Racks.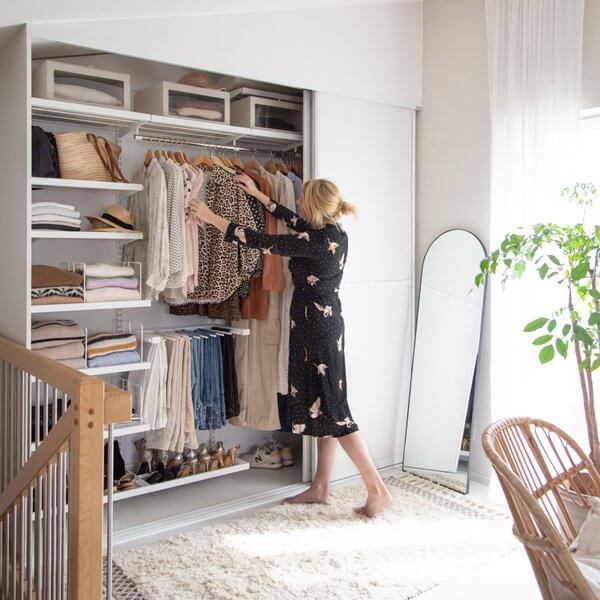 10-Year Guarantee
Elfa is the original modular wardrobe shelving system and comes complete with a 10-year manufacturer's warranty. With over 50 years of innovation and knowledge, you should trust nobody else with your home storage.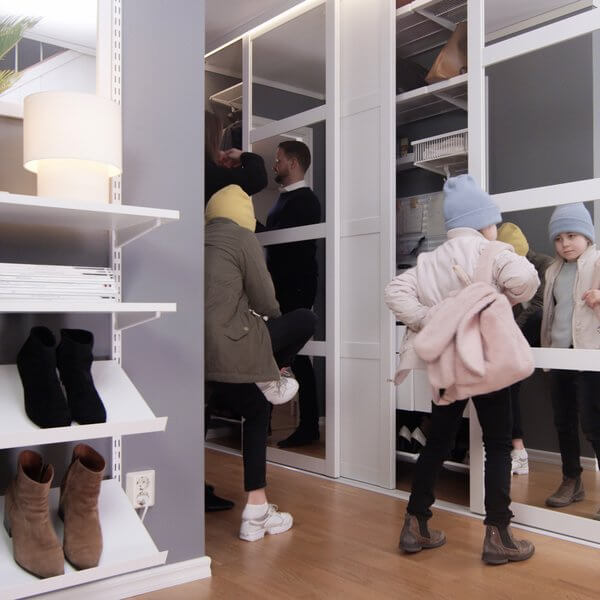 Grows With Your Family
Over time, every family's storage needs change. When you outgrow certain areas of your Elfa wardrobe, you can easily reconfigure or repurpose old shelves, drawers and racks in other areas of the home.
Add Some Luxury with Decor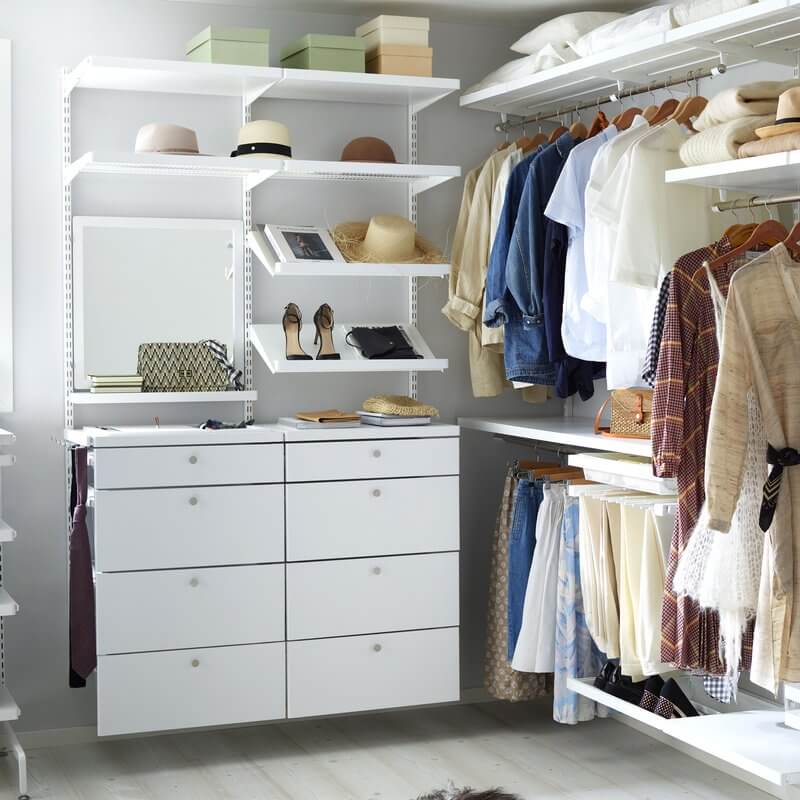 White
Elfa's White Decor shelving is a staple in households around the world. If your goal is to achieve a timeless, instantly classic wardrobe, look no further than White Decor.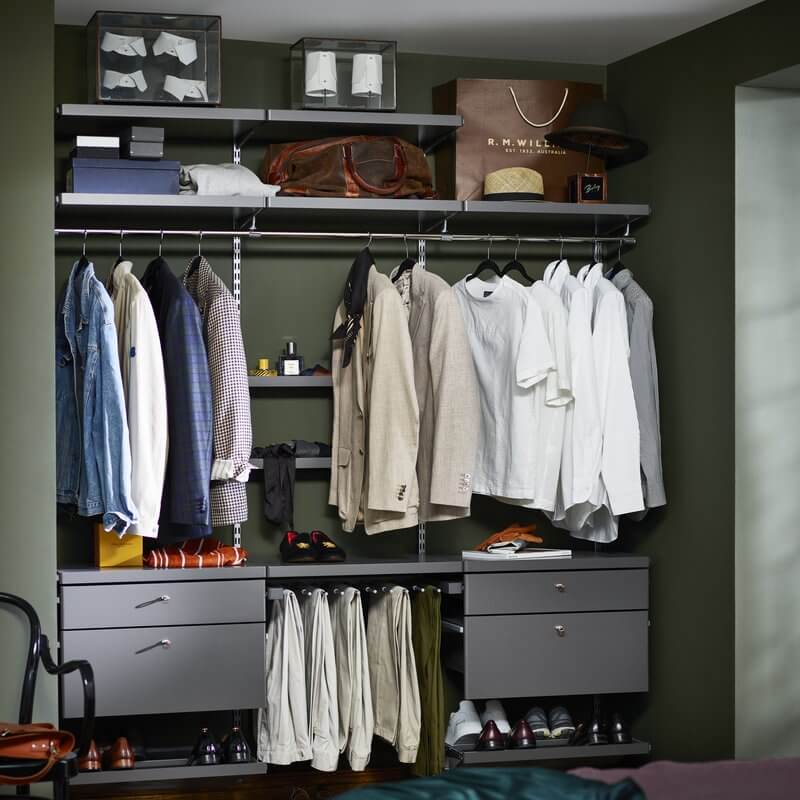 Grey
Create a refined look in your home with Elfa's contemporary Grey Decor shelving. Strong, masculine and moody, the Grey Decor range is perfectly suited to large wardrobes and homes with a darker colour scheme.
Gliding Decor Accessories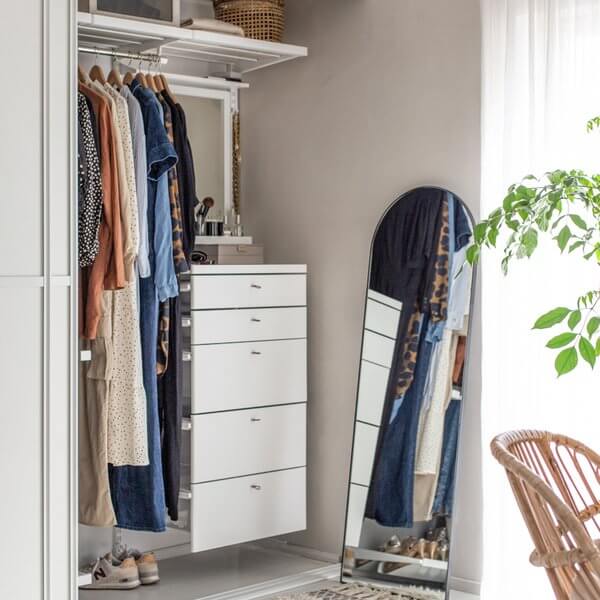 Drawer Fronts
Create a seamless, stylish wardrobe with Decor Drawer Fronts. Available in two heights and compatible with Elfa Standard Mesh Baskets.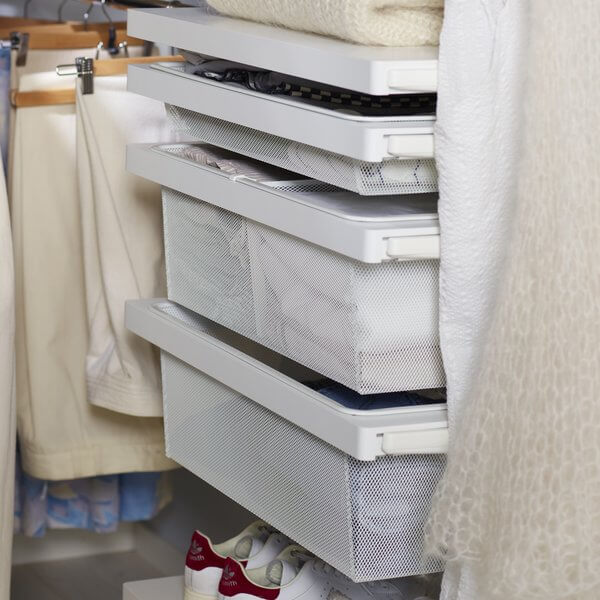 Gliding Drawer Frames
Decor Gliding Drawer Frames combine the best of both worlds. Keep the space light and airy while providing premium wooden accents.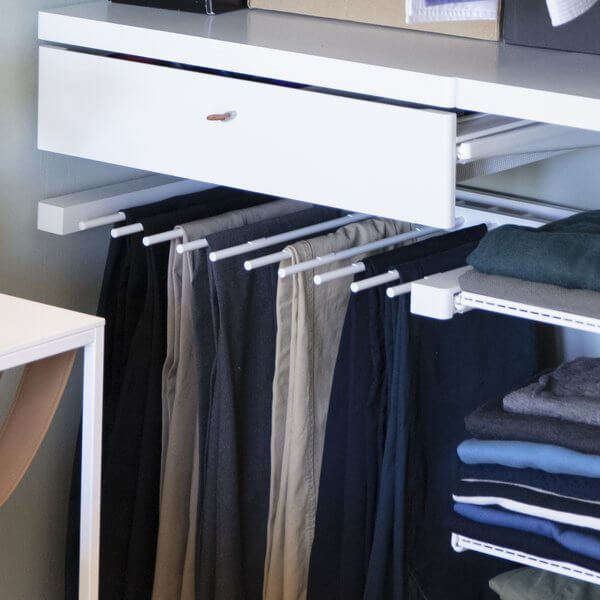 Gliding Pant Rack
Stores up to ten pairs of trousers in an easy-to-access way. Timber drawer surround perfectly complements other Decor accessories.
Nobody Knows Smart Storage Better than Elfa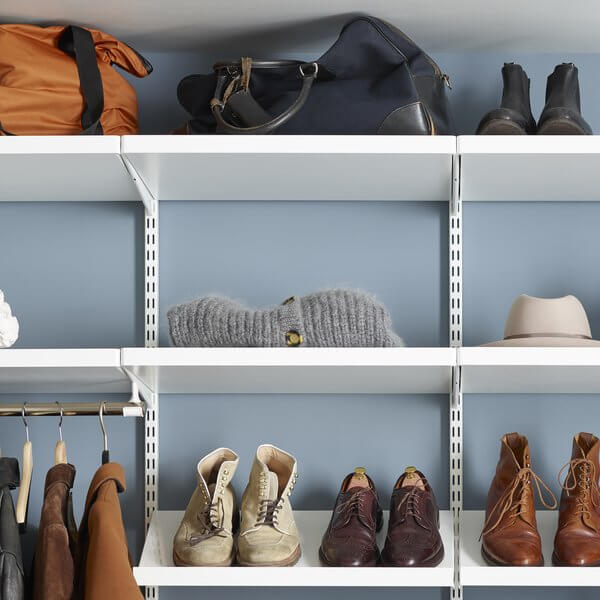 Timber Shelf
Simple, sleek and strong, Elfa Decor Shelves have a durable honeycomb construction with a painted birch veneer.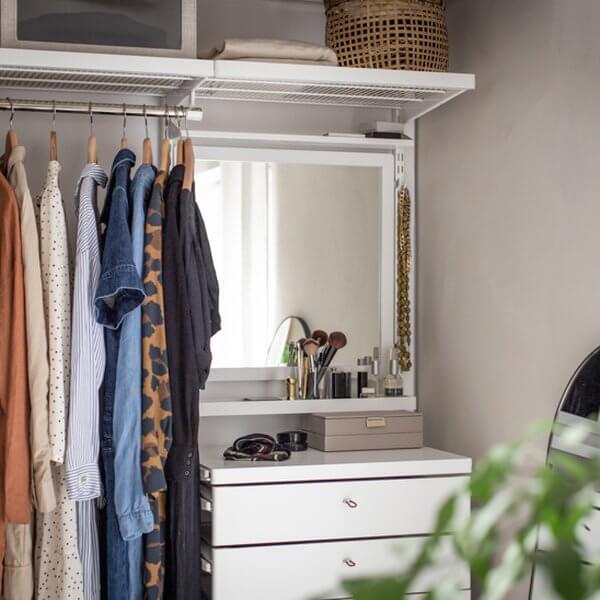 Click In Mirror
This minimalist wardrobe mirror clicks in to a W: 60 section and can be adjusted or repositioned easily. No brackets, drilling or fixings are required.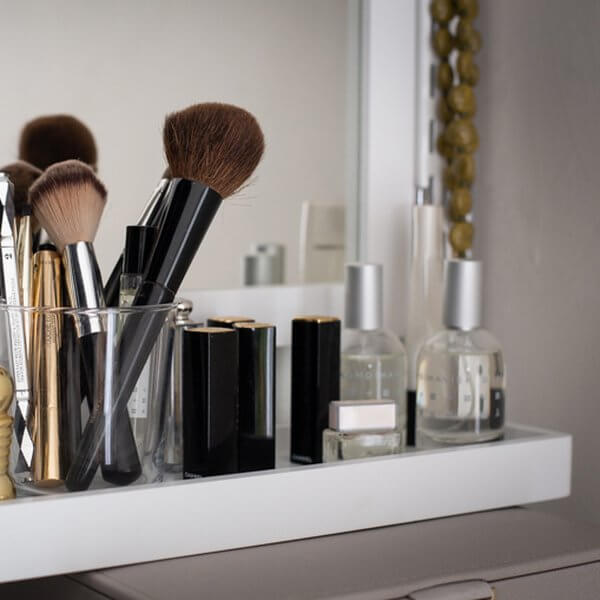 Accessory Shelf
Use a Decor Accessory Shelf to store small items such as jewellery or perfume bottles. Perfectly complements Decor Click In Mirror.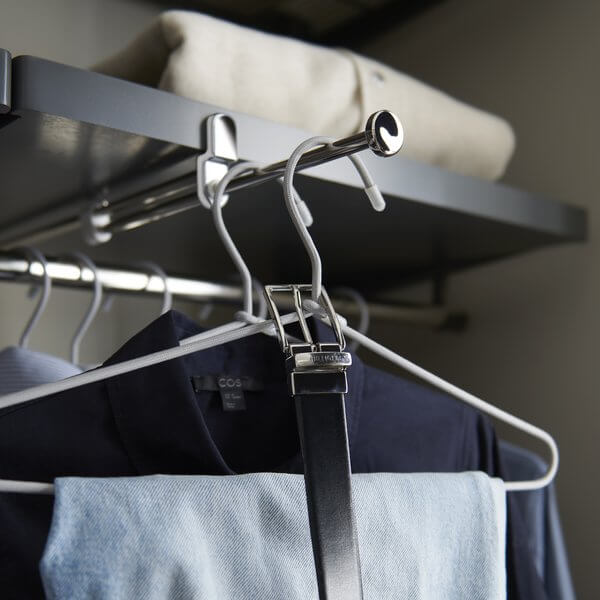 Expandable Valet Rod
Sleek, stylish and finished in brilliant chrome. Designed to perfectly match the premium Decor aesthetic.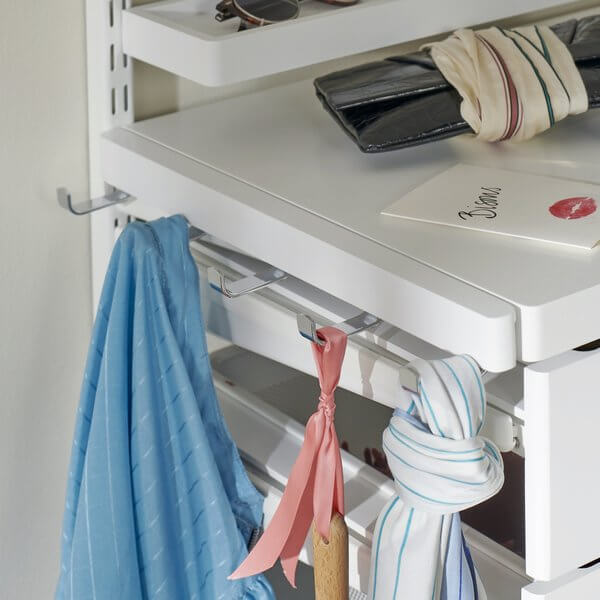 Bracket Hook
The search for space-efficient hanging storage is finally over. Each Decor Bracket Hook holds up to five belts, bags and other small accessories.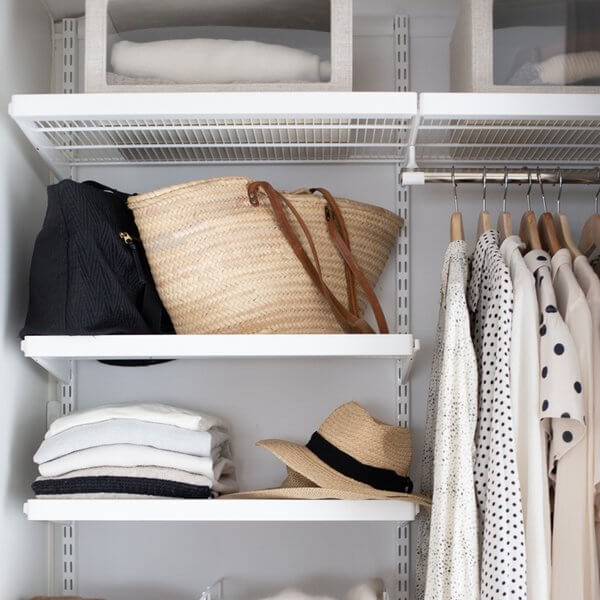 Fascia for Wire Shelf
Decor Shelf Fascias combine the benefits of Elfa Wire Shelves with the style of Decor. Can be added to Wire Shelves at any time.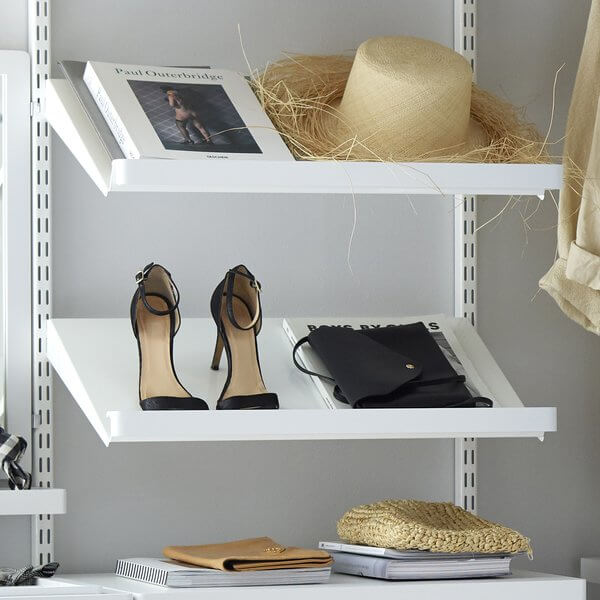 Fascia for Angled Shelf
Shelf Fascias can also be installed on an Angled Metal Shelf with special clips. The perfect way to soften the industrial style of metal shelves.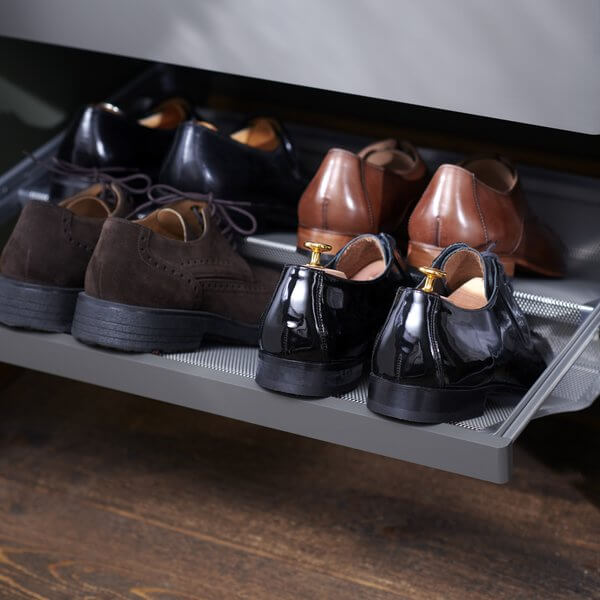 Fascia for Shoe Shelf
Add timber accents to your Gliding Shoe Shelf. Thinner than Shelf Fascias, and available in W: 60 and W: 45 sizes.
Elfa Freestanding Drawer Kits
Over 15 baskets available.
3 widths, 2 depths and 3 heights.
The perfect fit for any home.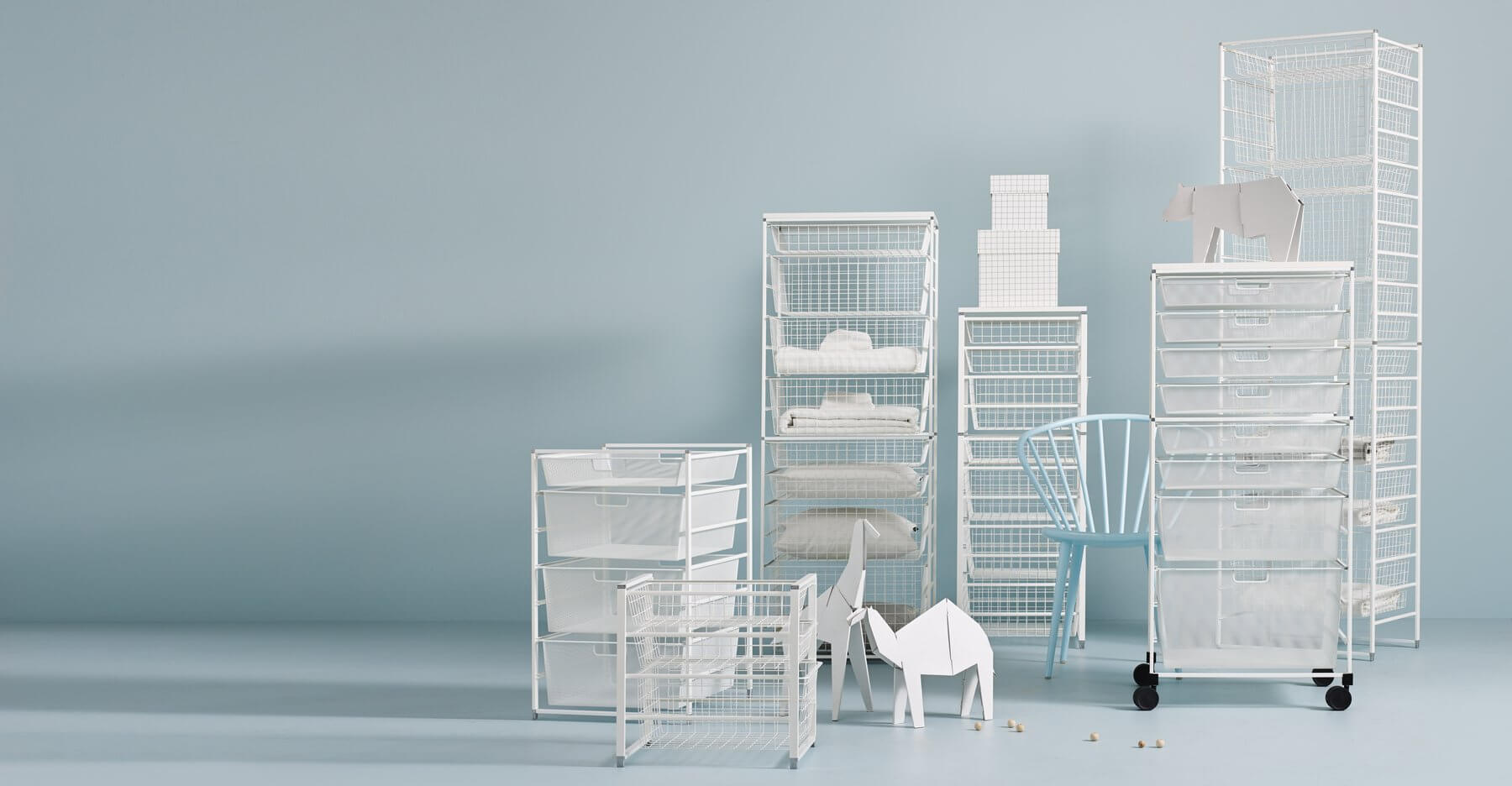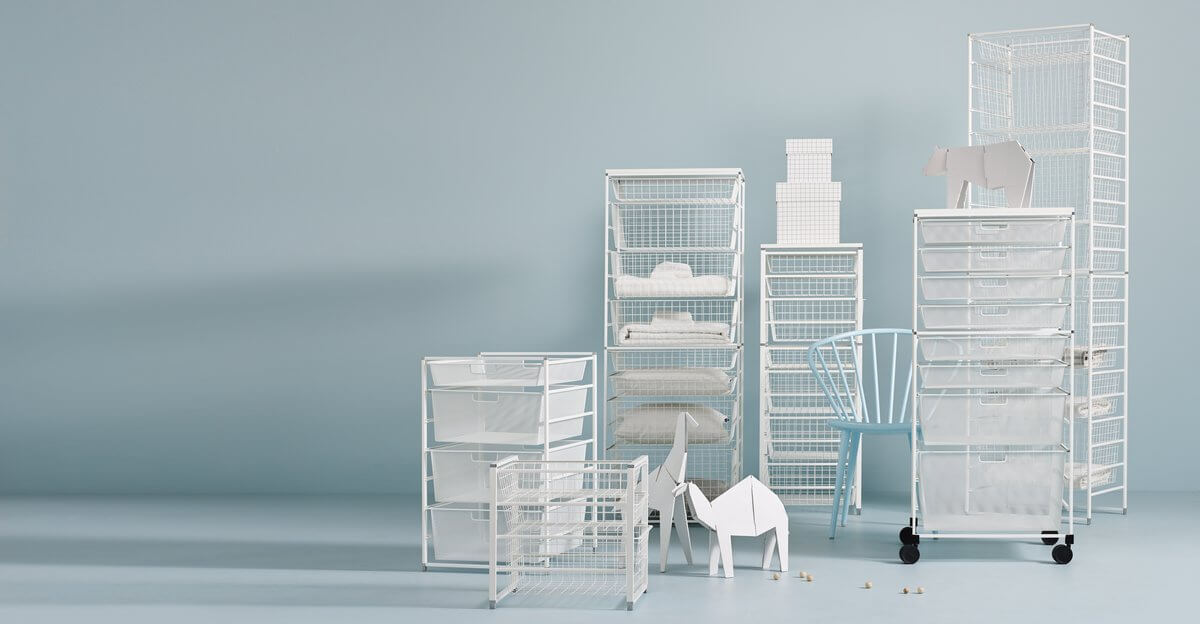 Sustainability Matters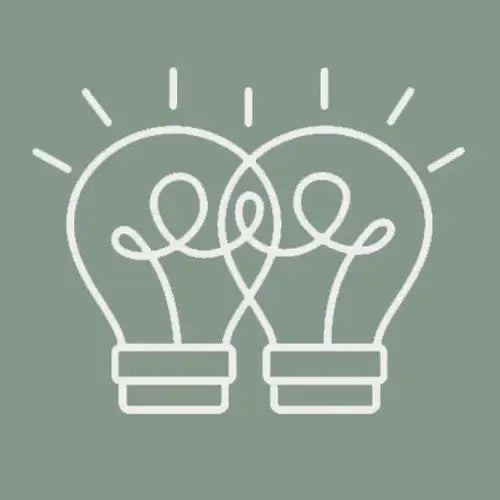 Sustainable Materials
70% of Elfa's steel is recycled, and the forestry origin of timber products is always verified. All of Elfa's wood-based boards are Carb II and E1 compliant, and only low-VOC varnishes and powder coatings are used.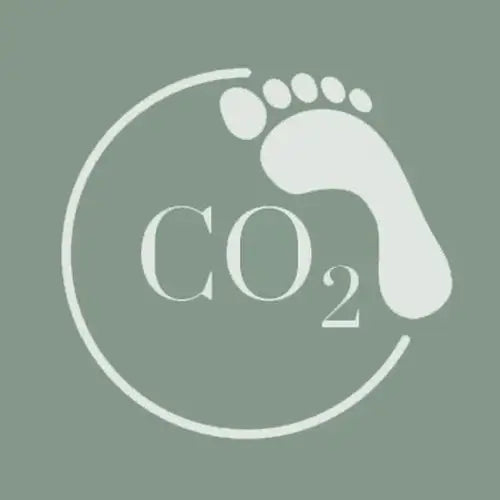 Low Carbon Footprint
The Click In system's 2021 redesign reduced Elfa's carbon footprint by 12% on its most popular lines, without compromising on quality or load-bearing capacity. The 2023 range and packaging refresh has also reduced Elfa's total plastic use by 2%.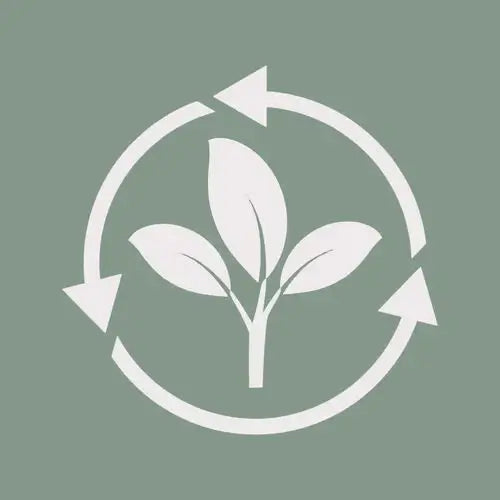 Circularity in Design
Cheap, poorly-made items have short lifespans and need to be replaced more often. Elfa's products are guaranteed to last for at least 10 years, meaning that fewer natural resources are consumed over the life of the products.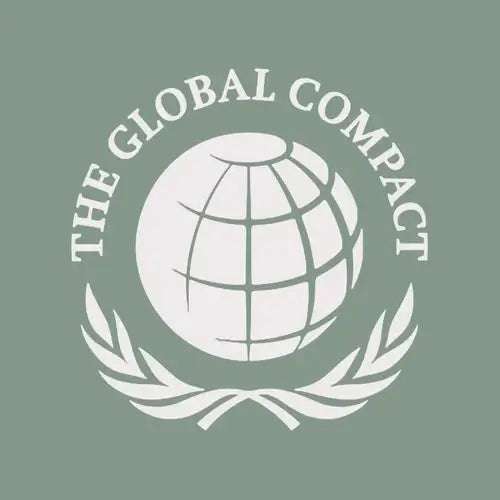 UN Global Compact
Elfa signed the UN Global Compact in 2018, and is actively supporting UN Sustainable Development Goals such as Responsible Consumption and Production, and Decent Work and Economic Growth.